Tameside
Anti-Slavery Day Stalls Aim to Raise Awareness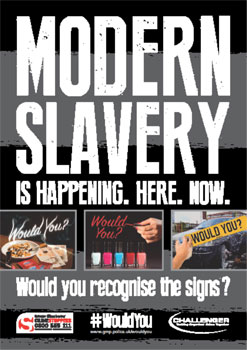 ANTI-Slavery Day, which takes place on Wednesday, October 18, provides an opportunity to raise awareness of human trafficking and modern slavery. It encourage the authorities, businesses and individuals to do what they can to address the problem.
To raise awareness in Tameside, the council's community safety team will be hosting stalls in Ashton and Hyde.
On Anti-Slavery Day itself, they will be at the  Wellbeing Corner in Ashton Market Hall, and the following day (Thursday, October 19) at Clarendon Square Shopping Centre.
Both stalls will be staffed from 10am to 2pm, offering an opportunity to learn more about modern slavery and human trafficking, and providing a better understanding of how to spot the signs. They will also be giving away some free crime-prevention devices.
The number of people identified as victims of modern slavery in the UK has been rising year on year, with more than 12,000 referred to the authorities in 2021. However, the actual amount is thought to be significantly higher.
Cllr Vimal Choksi, Tameside Council's executive member for towns and communities, said: "Modern slavery is a blight on the world and incredible though it may seem it exists in 21st century Britain.
"We see it in the form of forced labour, sexual exploitation, domestic slavery, trafficking into criminal activities like cannabis farming, and unscrupulous businesses which entice people with promises of good pay and conditions and then abuse them.
"Across the world, it's believed 50 million men, women and children are victims and that's a figure roughly equivalent to the population of South Korea.
"The community safety team stands in Ashton and Hyde are Tameside Council's attempt to raise awareness of the scourge of modern slavery. Please spare a few minutes to take a look."