Tameside
Annual Canvass 2023 – Don't Lose your Vote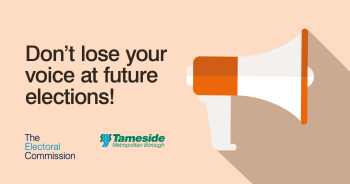 TAMESIDE residents are being urged to check their electoral registration details to make sure they don't lose the chance to vote on decisions that affect them.
The annual canvass allows Tameside Council to keep its electoral register up to date, to identify who risks losing their voice at elections, and to encourage them to register before it's too late.
A council spokesperson said: "The annual canvass is our way of being certain the information on the electoral register for every address is accurate. To make sure you don't lose your say at upcoming elections, please follow the instructions sent to you.
"Next year will be especially important. In addition to the council elections there will be an election for the mayor of Greater Manchester, and possibly a general election as December, 2024, will mark five years since the last one."
Recent home-movers are particularly urged to check their details. Research has found they are less likely to be registered than those who have lived at the same address for a long time.
Most people will be contacted by email. So that you don't dismiss it as a scam, it will be clearly marked as coming from the council's elections office – [email protected].
Check the details carefully as you only need to respond if told to do so, or if any changes are required such as adding further eligible electors or stating someone has left.
Responses can also be posted or made by phone (0800 197 9871). If there has been no change, you have the choice of texting. All options are fully explained.
For more information call 0161 342 8355, email elec[email protected] or visit www.tameside.gov.uk/annualcanvass
The easiest way to register to vote is online at www.gov.uk/register-to-vote