Tameside
A Glimpse of Excitement: Stalybridge Welcomes Special Guests for the Weave Arts Festival on 9th September
Attendees of the Stalybridge Street Fest were treated to an enticing glimpse of the splendid wonders that await them at the forthcoming Weave arts festival in the town.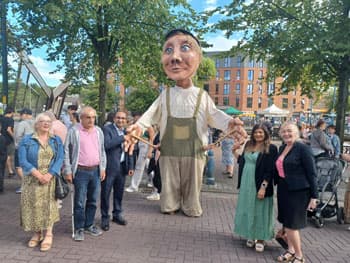 Among the anticipated highlights of the Weave festival, a free and family-friendly event, is the captivating presence of Charlie, a colossal puppet in the likeness of a mill boy. This festival promises a medley of carnival performances, enchanting brass band melodies, spirited dancing, captivating street theatre, and engaging creative workshops. Mark your calendars, as Weave is set to grace the heart of Stalybridge town centre on Saturday, 9th September 2023.
Weave forms a vital component of Historic England's collaborative 'Hi! Street Fest' initiative, which seeks to celebrate the cherished high streets and the individuals who cherish and nurture them.
This remarkable festival is a result of the concerted efforts of Tameside Council, the Bridge Cultural Consortium, Global Grooves – an arts organization based in Mossley – and Emergency Exit Arts (EEA), a company dedicated to outdoor arts.
At the core of the Weave festivities, we have Charlie the mill boy and a puppet companion eagerly awaiting the arrival of Farrah the fox – an imposing 5-meter-high puppet, towering above double-decker buses, who will make a stylish entrance into Stalybridge astride a scooter as she journeys across the nation, gracing all the Hi! Street Fest events. These delightful characters are poised to showcase the town's storied cotton heritage and its vibrant contemporary cultural tapestry.
Throughout the day, this trio of enchanting figures will stage impromptu performances, seamlessly woven into a tapestry of broader cultural activities. This encompasses the popular Street Fest food festival, a scrumptious Friday night affair, as well as the Heritage Open Days, during which the library, the Astley Cheetham Art Gallery, and local churches will warmly welcome the public.
Weave, under the benevolent sponsorship of Historic England, Arts Council England, and the Heritage Lottery Fund, will not only amplify Stalybridge's legacy as Greater Manchester's Town of Culture but also contribute to the High Street Heritage Action Zone.
In collaboration with The Bridge and Global Grooves, EEA is actively engaging local residents in an array of outreach endeavors and workshops, reinforcing a sense of community and creative involvement.